Articles
Articles and Publications
Breakthrough heart surgery in Brunei
By Kartika Rahman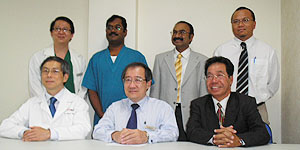 Gleneagles Jerudong Park Medical Centre Sdn Bhd (GJPMC), renowned for its excellence in cardiac programmes, is now offering a minimally invasive surgery to treat atrial fibrillation (AF).GJPMC is the second heart centre in Asean to provide this minimally invasive thorascopic microwave ablation procedure for AF. The first two patients to undergo the procedure were Awang Haji Azahari bin Ahmad and Awang Ahmad bin Haji Pudin.
Awang Haji Azahari, who had the procedure performed on him in November 2006 said, "I've had this condition since 1990, now I feel great! Yesterday I went for a three-kilometre walkathon with my son and after some rest even managed another one and a half kilometre walk. My heart rate has been normal."
Atrial fibrillation is a heart condition in which irregular heart beats result in the patient feeling tired, having palpitations and more serious cases may result in strokes.
"With the introduction of this treatment in GJPMC, we are now able to disrupt the electrical impulses causing irregular heart beats. This will promote normal rhythm and the patient's symptoms should improve with time," said Dr Eugene Sim, leader of the surgical team for the procedure.
Traditionally, the surgical treatment for atrial fibrillation, known as Cox-Maze procedure, requires a major operation. Doctors would have to crack the breastbone and stop the heart. This new procedure – thoracoscopic micro maze – can be completed by making three small incisions (keyholes) in the chest and typically, the patient can go home in one to two days' time.
Dr Eugene Sim added, "The procedure takes about two hours using general anaesthesia. We do not need to use the heart lung machine as in traditional open-heart surgery. The risk of complications with this procedure is much less than those associated with open heart surgeries."
The other members of the surgical team were Dr Terence Chin, Dr Haji Isham and visiting surgeon Dr Mark LaMeir. The Cardiac Anaesthetist was Dr Dhakshinamoorthi. The cardiologists managing the patients were Dr Patrick Ang and Dr T Ganesan.
"The continued introduction of new proven treatment procedures in Brunei Darussalam is a result of the strong collaboration between GJPMC and Brunei's Ministry of Health," said GJPMC General Manager, Mr Lee Chow Seng.
GJMPC's first cardiac surgery case was done on May 10, 2003. Since then they have treated patients locally and regionally.
Some of the techniques and procedures done at GJPMC are not available even in leading hospitals in the region. These include epiaortic ultrasound scanning, routine introperative graft flow management and routine endoscopic vein harvesting.
GJPMC is now one of the few hospitals in Asia to be able to offer two different techniques for the surgical treatment of atrial fibrillation.